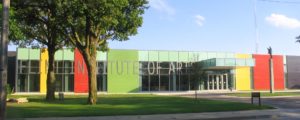 On Saturday, July 22nd, events with the Flint Literary Festival will be running from 10 AM until 7:30 PM at the Flint Public Library.  If you are planning to stay and enjoy most of the day's programming, you will probably get hungry and thirsty.  And while Downtown Flint and the adjacent Eastside have a number of dining options, one of the most convenient and delicious is just a couple hundred feet away.
Palette Café, at the Flint Institute of the Arts is open on Saturdays from 10 am – 5 pm and features a full menu of options.  From their website:
Located inside the North entrance of the Museum, the Palette Café offers signature sandwiches, salads, soups, desserts and a full bar. Begin your visit with a tasty treat, or take a break from the galleries for a glass of wine or a gourmet coffee. Featuring weekly food specials and dinner and cocktail events, there's something new to experience with every visit.
Guests should also return to the Flint Institute of Arts frequently to enjoy their exciting calendar of events and exhibitions and their carefully curated and varied collection. (But not from July 31st to September 16th, when the institute will be closed for repairs.)
The Flint Institute of Arts is located at 1120 E. Kearsley Street in the Flint Cultural Center.