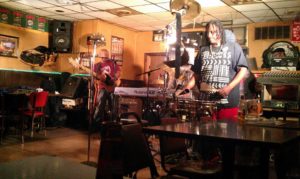 The Flint Literary Festival cordially invites the public to join us at our first ever Open-Mic Night at Flint's storied Golden Leaf Club, the oldest blues bar in the city, 1522 Harrison St. from 8 PM on Friday, July 21st.  Guests will have an opportunity to sign up and read for five minutes.   The event will be emceed by Nic Custer.  There will be a cash bar at this event, so ages 21 and up only.
Nic Custer is a poet and emcee. He is the author of Nothing Works, Everyone Labors and host of Flint's Support Your Local Poet open mic, which will be held at 9 pm the first Saturday in August at Churchill's bar (340 S. Saginaw St.).
If you love the Golden Leaf as much as we do, come back to check out live jazz funk music each Wednesday at 10 pm.
NOTE: For those of you visiting the Golden Leaf Club for the first time, please note that it is not Downtown and that you will have to cross I-69 onto the South Side to find it.  This map provides convenient directions from the Flint Public Library.